Glonoinum - Glonoine (Glon.)
(nitroglycerin)
Click Here to Buy Remedies and Supplements from Online Store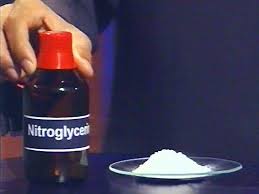 Congestion, with headache and palpitation.

Violent irregularities of the circulation.

Cluster headaches.

Blood rushes of blood to the head.

Throbbing of carotids, violent action of heart

Rush of blood to head

Flushes of heat rising from chest to head, then throbbing pain in head.S

Sensations of throbbing and expanding.

Congestive pulsating headache

Worse from the sun.

Headaches after sunstroke.

Better from brandy.

Worse, in sun; exposure to sun-rays, gas, open fire

Worse jar, stooping, having hair cut; peaches, stimulants

Worse lying down; from 6 a.m. to noon

Worse left side.