Homeopathy for Hives - Urticaria
Homeopathic remedies can help a person with symptoms of hives and allergic reactions. Contact us to learn more!
Click Here to Buy Remedies and Supplements from Online Store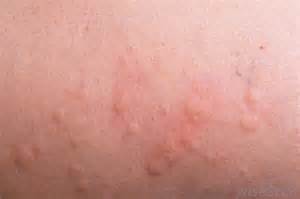 What Are Hives?
Urticaria rashes can affect any area of the body. They are are usually small elevated red patches and are often called weals in medical terminology. They can vary in sizes. They usually are circular in shape but can be of any shape. Hives usually last up to 24 hours or even longer at times. One area or the whole body can be affected. Feeling of stiffness and stretching along with intense itching are very common symptoms in Urticaria. The rashes may gradually clear only to return sometime later. In about one half of the patients with chronic Urticaria, swelling occurs. This swelling caused by leakage of fluid into the deeper tissues of the skin.
What exactly causes is not absolutely clear but auto immune factor is supposed to be the most common trigger for chronic Urticaria.
Here Are Some of the Most Common Remedies For Hives (Urticaria):