Spigelia anthelmia (Spig.)
(pinkroot)
Click Here to Buy Remedies and Supplements from Online Store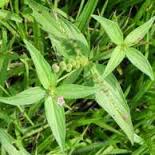 Marked elective affinity for the eye, heart, and nervous system.

Neuralgia of the fifth nerve is very prominent in its effects.

It is especially adapted to anemic, debilitated, rheumatic types.

Stabbing pains.

Heart affections and neuralgia.

Very sensitive to touch.

Parts feel chilly; send shudder through frame.

For stitches due to the presence of worms.

Child refers to the navel as the most painful part.

Better lying on right side with head high; inspiring.

Worse from touch, motion, noise, turning, washing, concussion.
Spigelia Anthelmica: Homeopathic Medicine -Tips For Beginners


(4:42 minute)