There is a $29.00 (USD) processing fee for each Survey submitted and scored.
This fee helps to enable us to provide many free on-line homeopathic resources of this website.
Your Survey payment is non-refundable once made.
All Payments are processed via Paypal.
After your $29.00 is made in Paypal, your screen will look like the image below.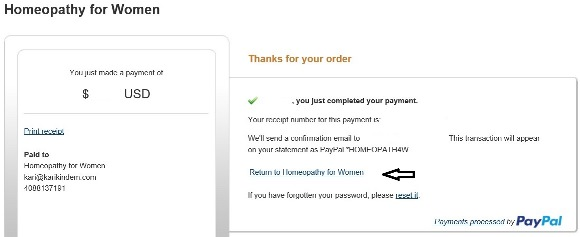 Once you see this image, just click on the arrow.
Return to Homeopathy For Women
You will be immediately redirected to complete the Homeopathic Constitution Survey.
Please make your $29.00 (USD) Survey processing payment now via Paypal.
You may pay using a Paypal account or credit card.
Thank you.
If you have any technical problems with accessing or submitting your survey after you have paid,
please email: tech@ homeopathyforwomen.org for prompt assistance.