Acute Remedy Kit - 200C Remedy Kit
Owning your own acute remedy kit will save money on doctor visits and help you avoid unnecessary drugs and antibiotics!
Note: This remedy kit is not only for women. The remedies it contains may be used by all members of your household, including infants to seniors for hundreds of health issues!
Acute Remedy Kit contains 50 homeopathic remedies in 200C potency for family use.
Cost: $149 + $16.50 shipping and handling (USA orders) - total of $165.50.
(Discounted price from normal price of $200)
Order Your Acute Remedy Kit Below!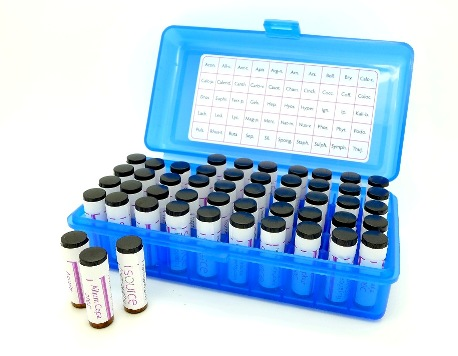 About the Acute 200C Remedy Kit with 50 Remedies in 200C Potency
The acute remedy kit contains 1/2 dram of each remedy listed below in a labeled, sealed glass vials and convenient storage case.

This kit has 50 remedies in a 200C potencies of the most common acute remedies that we recommend.

You may order this 50 Remedy 200C Acute Kit via the Acute Remedy Order Form Below

All remedies in the acute remedy kit come from reputable homeopathic lab(s).

All acute remedy kits are non-refundable once shipped.

Canada shipping by priority mail is $35.

All other countries shipping the acute remedy kit by priority mail is about $55 but prices may vary depending on country.
This kit contains a 1/2 dram vial of pill for each the 50 remedies listed below in a 200C potency.
Download A Free Remedy Dosing Chart For Tracking Doses (PDF)
Aconite

Allium Cepa

Ant. Tart.

Apis

Arg. nit.

Arnica

Ars. album

Belladonna

Bryonia

Calc. carb.

Calc. Phos

Calendula

Cantharis

Carbo Veg.

Causticum

Chamomilla

Cinch. Off

Cocculus

Coffea Cruda

Colocynthis

Drosera

Euphrasia

Ferrum Phos

Gelsemium

Hepar Sulp.

Hypericum

Hyoscyamus

Ignatia

Ipecac

Kali Bich

Lachesis

Ledum

Lycopodium

Mag. phos.

Merc. sol.

Natrum mur.

Nux vomica

Phosphorus

Phytolacca

Pulsatilla

Rhus Tox

Ruta

Sepia

Silicea

Spongia

Staphysagria

Stramonium

Sulphur

Symphytum

Thuja
Now you may treat the all types of acute conditions, conveniently and effectively - at home! To go with your Remedy Kit, we include a Free E-Book About Homeopathy along with detailed instructions
for both dry dosing and water remedy dosing plus other tips!
Request Your Free E-Book Here: "Homeopathy: Beginner's Guide and Tips" (PDF)
Read About Kari J. Kindem, AIT Practitioner, CFHom, CHP, CEASE Practitioner, Classical Homeopath

Kari's office is in San Jose, CA, USA.
She treats clients in the USA and Canada via Skype video conferencing.