Treating Tic Bites and Preventing Lyme Disease
Homeopathic remedies will support healing from Lyme Disease and rebalancing the immune system.
Homeoprophylaxis can also be used for effectively preventing Lyme disease. Contact us to learn more!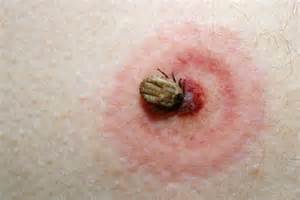 Treating Tic Bites With Homeopathy:
Dry Dosing Method:
Give 3 doses dry of Ledum 30C or 200C, 2 pills each, dissolved under the tongue a day for 3 days.

Keep the dosing 30 minutes from food or drink, both before and after each dose.
Water Dosing Method:
Use Ledum 30C as 2 pill in 4 oz water in a bottle OR LEdum 200C 2 pills in 8 oz water in a bottle and give 1 tsp as the dose for 3 doses a day for 3 days.

There are 4 succussions to the bottle (hard whacks from a distance of 2 feet to the palm of the hand of a paperback book) before all doses after the first with no succussions.

Read more about the water dosing method here.
Homeoprophylaxis (Prevention) for Lyme Disease Prevention
The Lyme nosode (Borrelia burgdorferi 30C or 200C) is used in Homeoprophylaxis for prevention, dosing it even monthly on exposure to tics in high exposure areas.

Nosodes use for homeoprophylaxis are prescription only and require a Homeopath's expert supervision. Contact us for support.
If you get bitten, remove the tic and as soon as possible.

Use a "tick twister" for removal.

Do not put anything on the tick!

To preserve in order to make a future homeopathic nosode if needed, immediately place the tick in a covered jar with 180 proof vodka, grain alcohol or brandy – then label it with the erson's name, date and where found on the body.

If you can not preserve it immediately, then tape it to a card and then label it with the person's name, date and where found on the body.

If it is preserved, the tick can be made into a homeopathic remedy (this is called isopathy) at a homeopathic lab for possible future treatment if needed.
Tetracycline antibiotic is commonly used as 200-300 mg 2-3 times a day.

Work with a Lyme Literate Doctor if using antibiotics!

Remember, the wrong antibiotics can drive the Lyme Disease further into the cell wall.

Doctos will prescribe doxycycline as the first antibiotic, usually given as 200 - 300 mg 2-3 time a day most often used

Children under 8 should not have doxycycline.

See more information about Lyme disease and tick-borne disease at The International Lyme and Associated Diseases Society (ILADS)
True or False About Lyme Prevention
From https://www.lymedisease.org.au/about-lyme-disease/myths-surrounding-lyme-disease-in-australia/
A one off dose of Doxycycline after a tick bite can prevent you contracting Lyme disease – FALSE.

This is false and dangerous. As it increases the chance of you going on to have long term Lyme Disease – at least 28 days of specific antibiotics are required to lower the chances of contracting Lyme Disease. Treatment of acute or chronic Lyme Disease requires treatment for much longer.


If you have Lyme disease, you just need 1 month of antibiotics and it is cured - after that it is Post Lyme Syndrome – FALSE.

This is false. Lyme disease can affect every system in the body. Because it is a slow replicating bacteria it is also very difficult to kill. For this reason some people will be on antibiotics for up to 2.5 years (or longer), especially if they are very sick, have been sick for a long time or have neurological Lyme Disease. Lyme disease is treated until a period of time after all symptoms have resolved (to make sure that the majority of bacteria are killed) – stopping treatment prematurely dramatically increases the likelihood of a relapse, and a higher bacterial load than before treatment, which can prolong treatment even further.